Charting your Skills Development Journey
Here are some useful tips as you consider how to plan ahead for your own career and skills development journey. Having done so, you may wish to explore the range of training opportunities and courses available for upskilling, including the plethora of courses subsidised by SkillsFuture Singapore (SSG), Workforce Singapore (WSG), Infocomm Media Development Authority (IMDA), Monetary Authority of Singapore (MAS), and other agencies.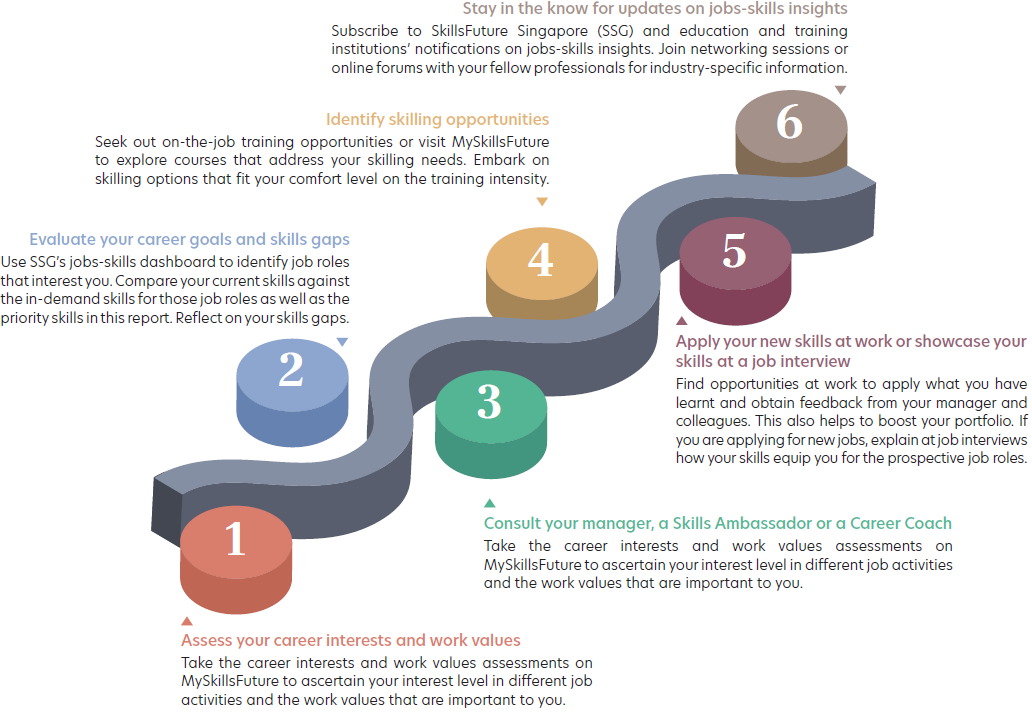 Resources to support skills and career development
Make use of our resources to keep abreast of trends impacting jobs and skills in Singapore.
Industry Voice
In a rapidly evolving business environment, continuous upskilling and reskilling are essential for capitalising on opportunities. Through my conversations with various clients, I observed that there is often a lack of proactive action in acquiring the right knowledge and skills among many individuals.

In my experience, it is concerning to witness individuals who acquire new skill sets without clear career goals. It is comparable to playing football without goal posts or participating in a marathon without an end point.
Personally, I believe that the first step to effectively grow in your career is to discover your own career aspirations and understand the in-demand skills required for the role that you are interested in.
To facilitate self-discovery, the Realistic, Investigative, Artistic, Social, Enterprising, Conventional (RIASEC) self-assessment tool can aid you in identifying careers aligned with your personality. Additionally, the Skills Framework offers valuable insights into various industries, occupations, and in-demand skills. Whether you are transitioning between fields or aspiring to progress in your current career, a comprehensive grasp of the requisite skills for your chosen path provides a sense of clarity and purpose and focuses your learning and development journey to directly align with your career objectives. The right skill sets will render you a more compelling candidate when pursuing fresh opportunities or advancements. To identify your skills gaps, you can also engage in a guided conversation with a Skills Ambassador, to empower yourself with the knowledge to make informed decisions and take targeted actions.
Among the mid-careerists that I have consulted, one client shared that she was retrenched as an operations executive and felt overwhelmed with the multitude of career options to explore. Through RIASEC and the consultation session with me, she identified new roles in industries which might be a good fit for her, and the essential skills required. After assessing her existing transferable skills, she gained a greater understanding of the required skills and training for her career transition. It was gratifying to learn that months later, she returned and shared her accomplishment of successfully transitioning to become a patient service associate.
In addition to assisting individuals gain clarity on their career goals and exploring training options, Skills Ambassadors can also provide support by recommending suitable courses and introducing various initiatives that align with one's career aspirations.
Therefore, regardless of which stage of career you are in, I encourage you to reach out to our team of Skills Ambassadors and discover how you can progress in your career.
Lastly, I understand that navigating career crossroads can be daunting, as fear of change and the desire to stay within our comfort zone often hold us back. But when you find what's right for you, it becomes easier to excel in whatever field you choose.
Career change can involve changing roles, functions, departments, industries, or even starting one's own business. Regardless, a career change requires careful preparation, such as identifying one's transferable skills, researching potential careers, upskilling to acquire new skills, networking with people in the desired fields. One may start off by conducting a self-reflection on what triggered the desire for a career change. For instance, are you seeking greater job satisfaction or career growth or meaningful work?

You should also think about your career motivators – the values or priorities that drive you at work. For example, if you have a flair for creative writing and value social interactions, you might find fulfilment as a writer in an organisation that emphasises teamwork. In addition, consider what work activities energises you at work. Are there any specific tasks that drain you? Understanding your career motivators can pinpoint career opportunities that gives you better job satisfaction.
Understanding your career motivators and the impetus behind your career transition would define your career goals. The next step is then to conduct systematic industry research and identify positions that match your career motivators. Determine qualifications or skills required and work towards attaining them. Leverage existing/new networks connecting with professionals in your desired industries to gain valuable insights or opportunities, attend industry workshops/events, and utilise networking platforms like LinkedIn.
My client, Alex, expressed job dissatisfaction as a Technical Executive as his role did not align with his career motivators which are fellowship and helping others. Recognising this, he identified social services as a sector he would like to transit into. Through my career guidance, Alex gained career clarity and formulated a career plan. Recognising his limited experience, Alex identified roles where his transferable skills in customer service and operations would be valued. With a well-defined career plan, Alex successfully switched into the social service sector, where he is now more satisfied.
It is important to stay resilient and keep an open mindset. Remember, you don't have to navigate the challenges alone. Workforce Singapore (WSG)'s Careers Connect and NTUC e2i's Career Centre offer personalised career advisory and guidance to help you navigate your career change. You can also tap onto digital resources such as theCareersFinder feature on MyCareersFuture portal for personalised upskilling and career recommendations and Workipedia by MyCareersFuture for career-related resources.
Additionally, there are various programmes such as SGUnited Mid-Career Pathway Programmes and WSG's Career Conversion Programmes (CCPs) to support your transition. With SGUnited Mid-Career Pathway Programmes, you can gain industry-relevant skills and experience through full-time attachments and convert to full-time employment. With close to 100 WSG's CCPs, you have numerous options to reskill and switch careers to align with your career transition.
Despite the challenges that a career change presents, your journey can be enriching. By diligently crafting and following through a career plan, you not only can realise your professional aspirations but also discover fulfilment in your new path.
We greatly appreciate your feedback on the report here.