What is it?
The Supply Chain Management (SCM) Skills Plan is a one-stop reference document for SCM stakeholders to understand the trends, key job roles and required skills, and training support for upskilling and reskilling to take on the SCM job roles.
With the growing importance of SCM in Singapore, the SCM Skills Plan focuses on two key functions:
Planning function:

ensures demand and supply needs are addressed by effective planning of inventory and operational processes, and business continuity

Sourcing & Procurement (S&P) function:

ensures that resources meet demand needs amid volatile macro-trends that disrupt SCM operations
The SCM Skills Plan is an extension of the SCM Jobs Transformation Map launched on 10 July 2023. It offers a deeper dive into the key tasks, skills and apps & tools required by Planning, and S&P job roles.
Who is it for?
Individuals:

To understand the skills to acquire for the SCM job roles, and the training programmes/courses for reskilling and upskilling
Training Providers:

To design relevant training programmes/courses that support the reskilling and upskilling of individuals to take on the SCM job roles
Employers:

To identify skills needs, redefine job roles and design in-house training programmes for workforce to take on the SCM job roles
Supply Chain Management Skills Plan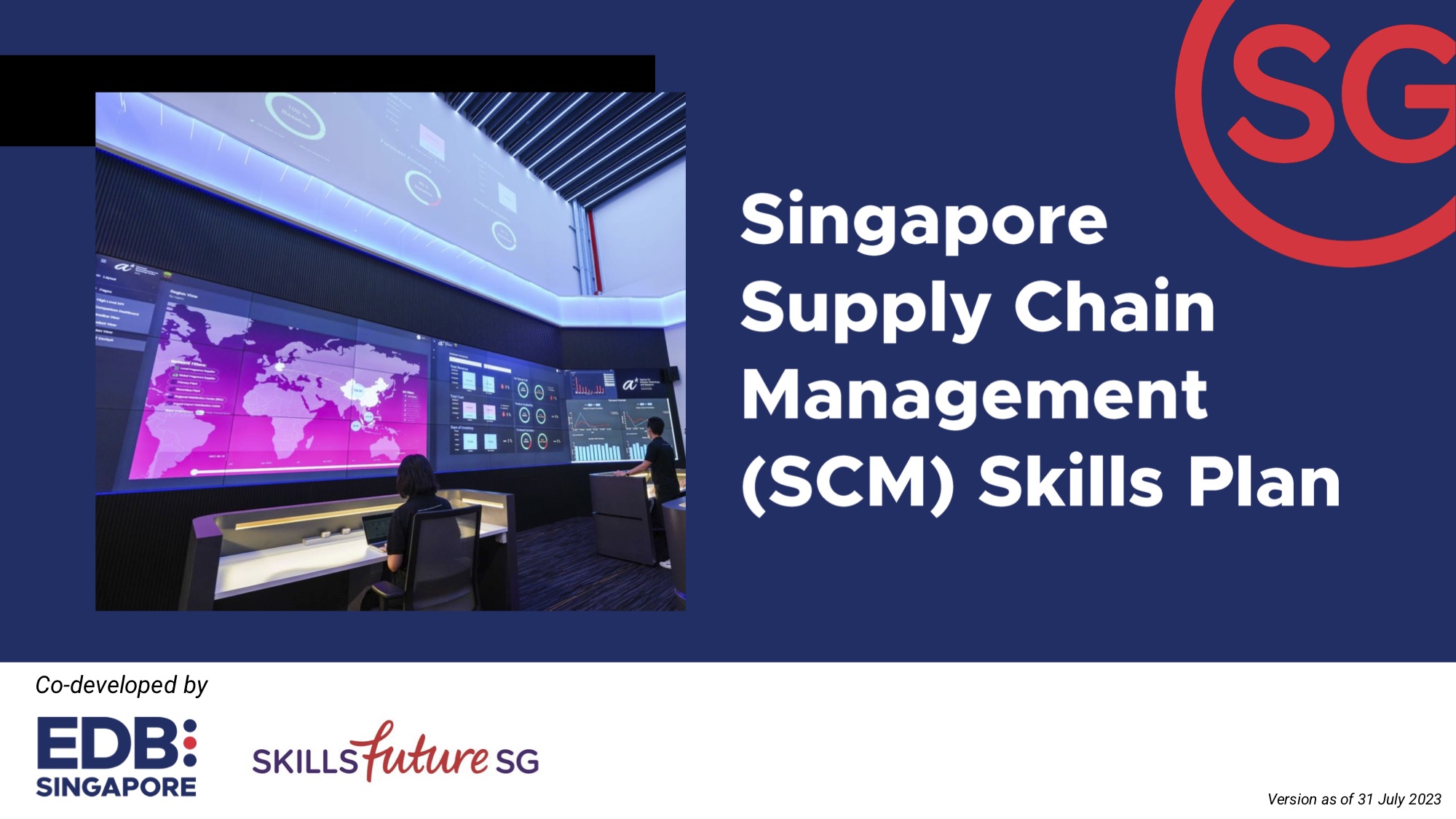 About Supply Chain Management
Companies are diversifying their supply chains in response to the risks and disruptions present today. The main goals are to cater for future growth while mitigating geopolitical risk, and improving the agility and flexibility in their supply chain network.
Securing just-in-case supply chains through data-driven decision making and resilient supplier networks are top of mind. Preliminary findings from the EDB-Gartner industry survey revealed that close to 50% of surveyed business leaders with supply chain operations in Asia Pacific identify planning as the top area in need of upskilling and retraining. This is especially salient for data-driven decision-making roles such as supply planners and demand planners.
Supply Chain Management Skills Plan
Readers can expect to learn about:
The overview of SCM and its five (5) key functions
Insights into SCM trends and their impacts on SCM job roles and skills required
A comprehensive view of the eighteen (18) SCM job roles, key tasks, and the corresponding skills and apps & tools required
A Skills Activation Plan which provides information on the training support that businesses and individuals can tap on, and training providers on where they could enhance their course offerings