What is it?
SkillsFuture Jobs-Skills Insights (SFJSI) is a publication that spotlights high-tempo jobs and skills changes within specific sectors or economies to keep citizens and enterprises updated. ​
SkillsFuture Jobs-Skills Insights – Counsellors in the Care Economy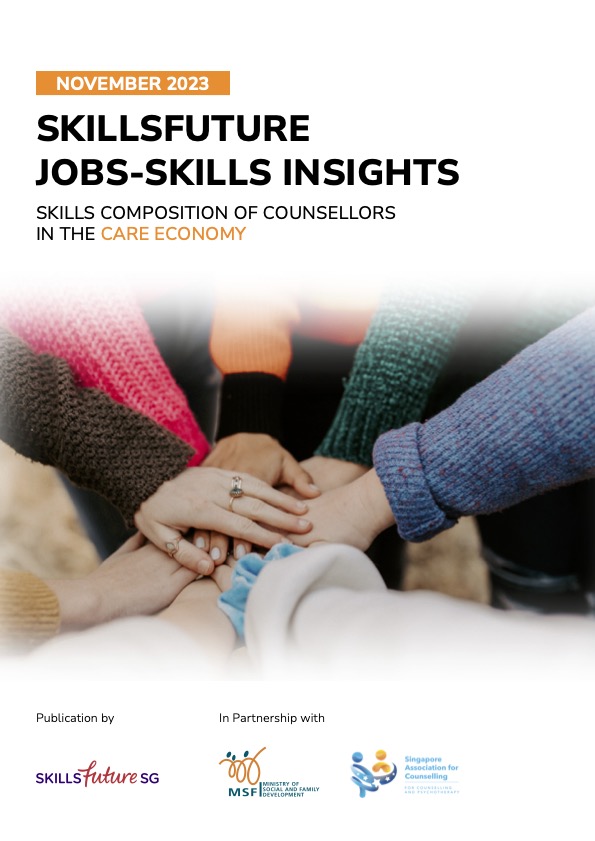 This publication of SkillsFuture Jobs-Skills Insights spotlights the latest jobs, skills insights and curated training programmes for counsellors. Together with the Counselling Track under the Skills Framework for Social Service, it aims to guide the development plans for the Counselling profession. The key insights are:
1. Skills required for Counsellors can be classified into 3 broad categories:
Counselling Skills
Complementary Skills
Critical Core Skills
2. Counselling Skills can be further segmented into 4 sub-categories of skills:
Counselling Assessment and Counselling Intervention
Clinical Supervision
Technology Application in Counselling
Other Social Service Skills
3. Call to action - counsellors and individuals looking to become counsellors can refer to suggested programmes to upskill.
Previous Publications